Oszillos Mega Scope from Benjamin Schulz is a BPM‑synced oscilloscope with support for multiple inputs. I think it's a wonderful tool for learning more about what effect plug‑ins do to audio tracks.

Just insert an instance of OMS on a track, then your choice of effect plug‑in, and then another instance of OMS, and you'll be able to see exactly how the plug‑in has changed the volume envelope. You even have the choice of superimposing the before/after waveforms to see the changes more clearly. I found it great for tweaking compressor and transient shaper settings.

Want to see what your favourite transient shaper is actually doing? Download Oszillos Mega Scope and find out.
Oszillos-Mega-Scope is a BPM-synced oscilloscope with support for multiple inputs. It gives you a visualisation of the waveforms you feed it with. This can be handy in different situations like compressor-fine-tuning, sound design, drum programming, etc. Oszillos-Mega-Scope features a resizeable and intuitive user-interface that lets you just do you work.
---
Features:
Supports multiple Channels.
Low CPU usage
Supports different zoom-levels (1/32th note to 16 bars).
Two different visualisation modes (separate waves, combined waves).
Gain slider for input-level adjustment.
Resizeable Visualization Window.
Easy and Elegant User Interface.
run on macOS & Windows
32 bit & 64 bit Host support
available as VST, AU and AAX (Pro Tools)
---
Oszillos Mega Scope used for Side-Chain compression
---
Screenshots




The different draw modes of Oszillos Mega Scope.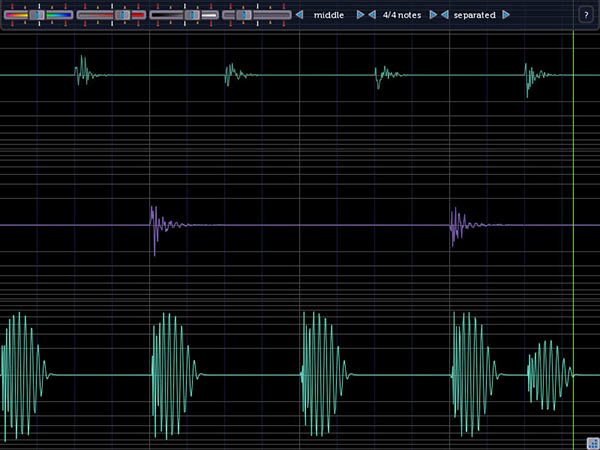 Oszillos Mega-Scope supports multiple inputs. This enables you to identify problem spots in you mix or composition.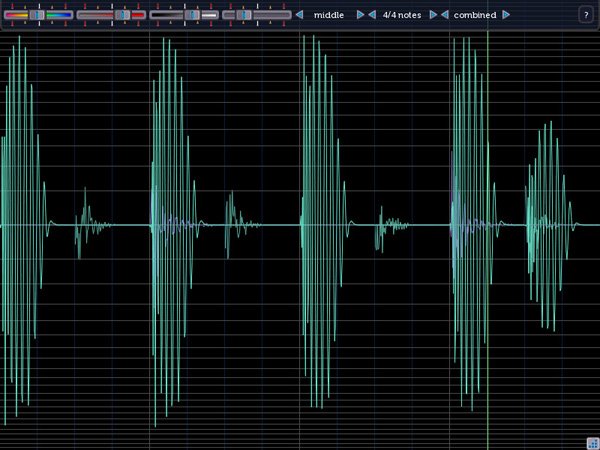 The waveforms of those inputs can be be drawn in seperate ways. Either as seperated waveforms or into one colored waveform. This helps you identify the components of you mix.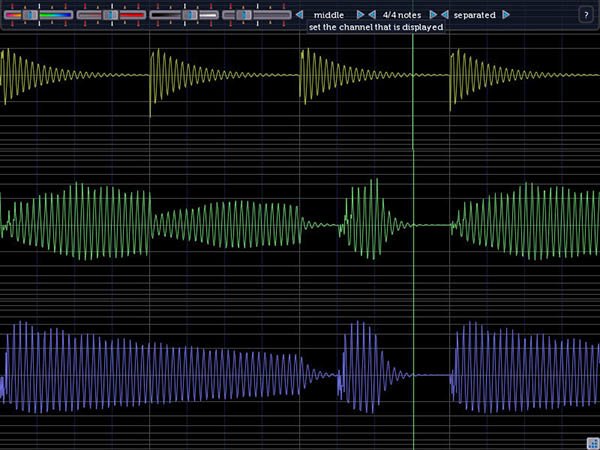 It's ideal when fine tuning the parameters of a side-chain-compressor on the Kick and Bass. Now you can really see what is going on. In this example you can see the Kick-Drum (yellow), the side-chain compressed bass line(green) and the original bassline (blue). The visual feedback of Oszillos Mega Scope really helped to finetune the compressor settings.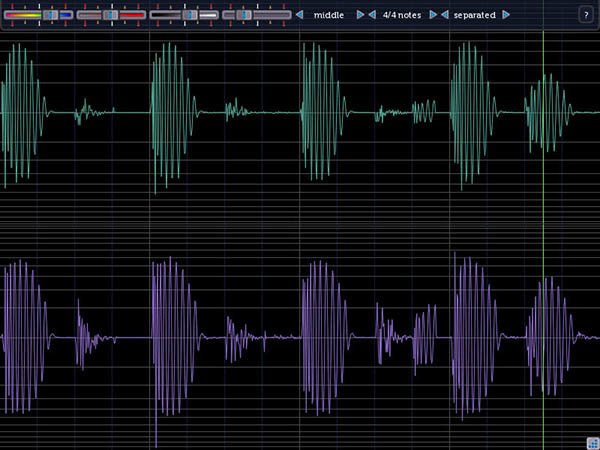 And even with trditional compression: Oszillos-Mega-Scope can be of big help. You can identify the attack part of the audio-material in question easily and fine-tune the attack setting of the compressor with ease. The visualisation of the tail also help to get the release and threshold setting of you favoured compressor just right.
Fair, Dongle-Less Licensing
Our Licensing-System supports two modes: Floating & Locked. The default is Floating. While your license is floating, you transfer it between your machines as often as you like. But this requires internet access. If your Studio Workstation does not have internet access or do not want the plugin to connect to our server each time it's loaded, you can Lock a License to your machine. A locked License cannot be transferred to another computer.
Refund Policy
If you are unhappy for any reason with the product, we will issue a full refund (minus processing fees) within 14 days of your purchase if you have not locked your license.
contact us
and we'll get it sorted - no questions asked.
We're here to help
Are you an educator?
We'd love to know if you use our products in your YouTube videos, blog post, online curses or tutorials.
Change Log
Oszillos Mega Scope 1.8.112 Windows
Oszillos Mega Scope 1.6.87 Windows

fixed installer for 32bit windows
fixed AAX plugin signing

Oszillos Mega Scope 1.6.86 Windows
Oszillos Mega Scope 1.6.85 Mac
Oszillos Mega Scope 1.6.80 Windows

added ability to create screenshots - they'll be saved to the Desktop
fixed a crash

Oszillos Mega Scope 1.6.79 Mac

added screenshot functionality - the screenshots are saved to the Desktop and have a transparent background.

Oszillos Mega Scope 1.6.78 Mac

Fixed a crash when a plugin instance is created after the last instance was destroyed.

Oszillos Mega Scope 1.6.77 Windows

64bit support & new draw modes.

Oszillos Mega Scope 1.6.72 Mac

64bit support & new draw modes.

Oszillos Mega Scope 1.6.79

Support for 64 bit hosts
two new draw modes (abeat and mbeat) that colorize the waveform based on frequency content.
fixed a crash caused by a overflow when the window was made very large
New Feature: Make Screenshots to Desktop with a single click

Oszillos Mega Scope 1.3 Beta 5

fixed loading and saving of settings on all hosts
window width and height is now stored as well
fixed a bug with hosts, that do not provide proper BPM-information

Oszillos Mega Scope 1.3 Beta 1 Windows

Includes all the changes from the mac version
hopefully fixes a Bug when used with Jeskola Buzz

Oszillos Mega Scope 1.3 Beta 2 Mac OS X

Fixed a bug that might have caused the cursor to run backwards in some circumstances.

Oszillos Mega Scope 1.3 Beta 1 Mac OS X

Added four different draw modes: fast, precise, shaded and deep, some are eye-candy, some are quite usefull
Fixed an offsetting problem with large buffer sizes
Sample perfect alignment of waveforms synced to the BPM now also works when you have multiple instances in different track or in the same track.
Fixed that loud waveform got drawn behind the UI.

Oszillos Mega Scope 1.2 Beta 1 Mac OS X

Mac OS X Version!
gain is now applied uniform to all waveforms
a 0db bar is draw so you know where you're at. (thanks martin)
Now the waveforms are aligned sample perfect to each other

Oszillos Mega Scope 1.1 Windows PC

Installer
small cosmetic changes

Oszillos Mega Scope 1.1 beta 6

New UI - Thanks Olli!
General UI-improvements
Added About Screen
Added window resizing (this one was a pain!)
Added gain slider

Oszillos Mega Scope 1.1 beta 5

You now can choose which channel to process (Left,Right,Mid,Side)

Oszillos Mega Scope 1.1 beta 4

Ok, this one had nothing to do with multiple screens, it was a off-by-one bug that cause an mallformed assert to fire (so not really a bug, but paranoia ;o) )
changed location of minidump so it works with Vista and Windows 7

Oszillos Mega Scope 1.1 beta 3

hopefully fixed a bug causing reaper to crash when working with multiple screens.
Downloads
VST PlugIn Technology by Steinberg Media Technologies